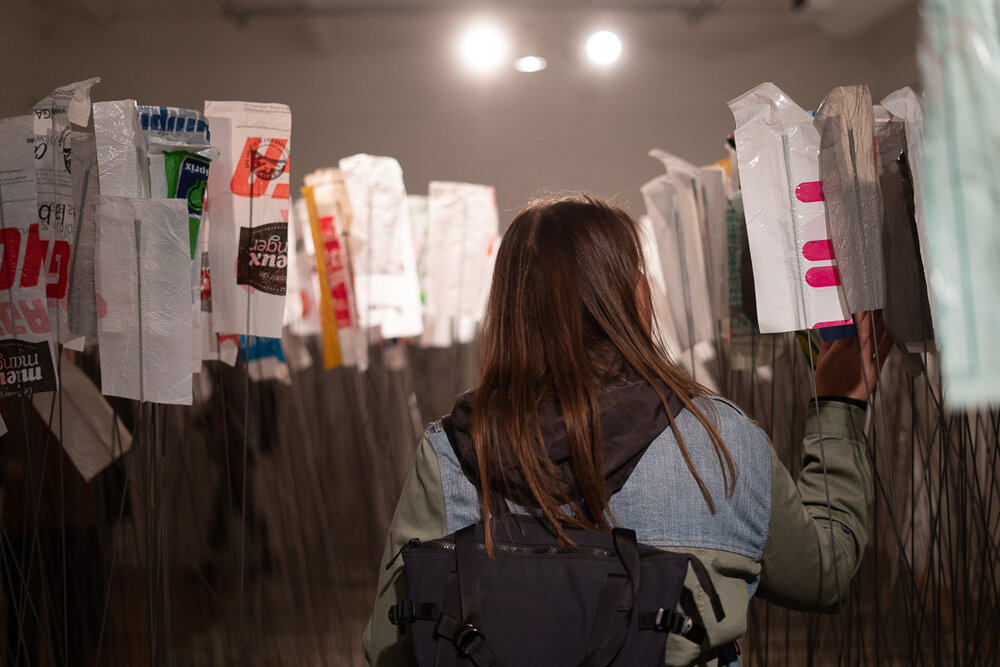 imagineNATIVE Film + Media Arts Festival
Presenting Partner: Crave
Art Crawl, Night of Indigenous Devs, and Interactive Works

The imagineNATIVE Film + Media Arts Festival is proud to announce the visual arts and interactive programming running October 21 – 25, 2020 online, including the annual Art Crawl, Night of Indigenous Devs, and a curated selection of AR/VR, 360 Video, video games, and more.

imagineNATIVE's annual Art Crawl will take place online on Thursday, October 22 at 7pm EST. The Art Crawl will showcase a dynamic selection of visual art works at four galleries in Toronto:
Sāmoan Hxstories, Screens, and Intimaciescurated by Dr. Léuli Eshrāghi at A Space Gallery investigates the practices of Sāmoan artists and filmmakers, engaging with bodies, sexualities, kinships, cultural knowledge, and futurities.
Medicine and Magic is dual-channel video installation by Thirza Cuthand curated by Ariel Smith at Bachir/Yerex Presentation Space. Cuthand pulls from her own familial history to connect two separate incidents which occurred over 100 years and 6,000 km apart.
Constellations of Kin, curated by Eli Hirtle features works by Arielle Twist, Elisa Harkins, Nicole Neidhardt, and Whess Harman at the Canadian Filmmakers Distribution Centre, engages with the concept of what kinship means to each artist, and how the care, connection, and safety within these systems guide them in imagining the future.
This moment an endurance to the end foreverat Trinity Square Video is an exhibition shaped in the living room of artist Tanya Lukin Linklater: an ever-shifting space that has held gatherings of Omaskeko Cree families of North Bay and performances by Indigenous women, and now acts as a shared studio space for the artist and her two children. This work showcases a multigenerational discussion of what treaties mean for family, and building agency within these histories for future inheritors.
Night of the Indigenous Devs returns to imagineNATIVE on October 23 to celebrate and showcase international Indigenous virtual reality and video games. Guest curated by Achimostawinan Games, Night of the Indigenous Devs will be featuring five games including: Button City, an adventure game about a fox named Fennel and his animal friends; Mîkiwâm: Chapter One, a game about a herbalist's apprentice who must investigate Kohkom's disappearance; Umurangi Generation, a game set in a post-apocalyptic future where the player assumes the role of photographer during a global disaster; Neofeud, a cyberpunk adventure about social and economic inequality, and the experiences of growing up in Hawaii's ghetto; and Finding Victor, a VR escape room where the player is given the task of helping Victor, a young Indigenous man struggling to find himself by solving clues and uncovering his journey. These Indigenous digital creatives will show off their work and talk about what it means to be Indigenous working in video games.

In addition to video games, imagineNATIVE will showcase 17 Indigenous-made digital and interactive media works online for FREE October 21 – 25 including: On the Land with Noah Piugattuk, a digital story map complementing the Zacharias Kunuk film One Day in the Life of Noah Piugattuk; Along the River of Spacetime, a virtual reality game about activating Anishinaabe star knowledge to enhance river ecosystems by Elizabeth LaPensée; Virtual Whadjuk, a VR time machine that places audiences into an Aboriginal Australian body to experience a spiritual culture firsthand from artists Karla Hart and Brett Leavy; Onkwehonwe Sky Travelers, a MoniGarr.com creation of an immersive 3D environment, where Onkwehonwe Sky Travelers arrive for an intergalactic meeting to discuss medicine plant beings; and Metaperotin, Mélina Quitich Niquay's first foray into immersive art that brings the viewer to the urban woodlands of Trois-Rivières, through the eyes of a newcomer.

More programming for the 21st Annual imagineNATIVE Film + Media Arts Festival will be announced in the coming weeks.
imagineNATIVE Film + Media Arts Festival
October 20 – 25, 2020

Art Crawl
Thursday, October 22 – 7pm-8pm EST
FREE

Night of Indigenous Devs
Friday, October 23 – 7pm-8:30pm EST

imagineNATIVE Tickets On Sale September 29, 2020
imagineNATIVE Passes Are On Sale Now
festival.imaginenative.org/passes

For more information please call 416.585.2333 or visit imagineNATIVE.org

facebook.com/imagineNATIVE / twitter.com/imagineNATIVE / instagram.com/imagineNATIVE
Media Contact: Damien Nelson, Want & Able, damien@wantandable.ca

The imagineNATIVE Film + Media Arts Festival is the world's largest Indigenous festival showcasing film, video, audio, and digital + interactive media made by Indigenous screen-content creators. The Festival presents compelling and distinctive works from Canada and around the globe, reflecting the diversity of Indigenous nations and illustrating the vitality and dynamism of Indigenous arts, perspectives, and cultures in contemporary media.