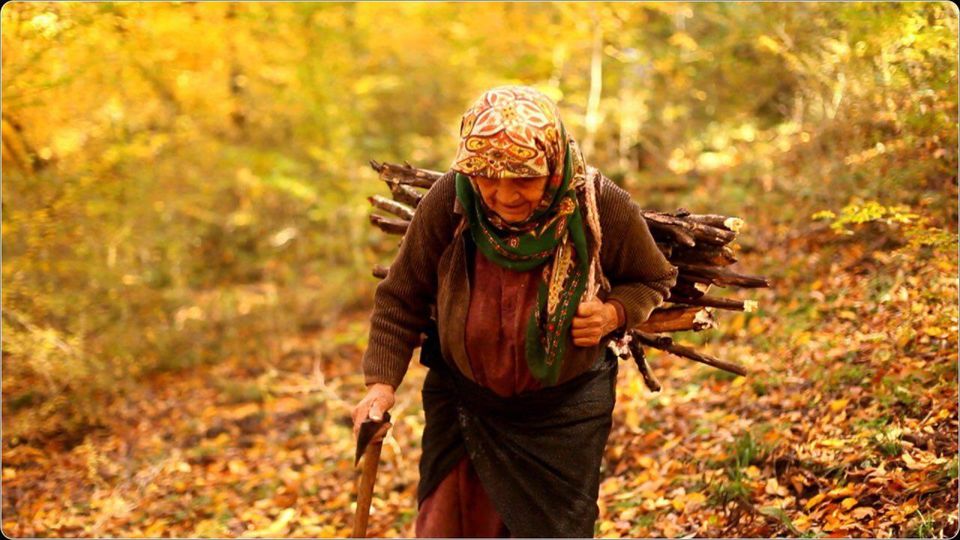 BELOVED
Life as a herder is hard and solitary, but the 82-year-old Iranian Firouzeh loves the ever-changing nature, the hard life and her faithful cows. She hikes across the rugged landscape, lugs bundles of wood and still nimbly climbs trees. Beloved follows this strong-minded woman in her work across the seasons as she tells the story of her life, with work and fate as the dominant themes. When she was a young girl, a marriage was arranged for her with an older man, with whom she had 11 children. But not one of them comes to visit her now. Spending the winter in the low-lying village, she makes fervent efforts to get closer to her kids. Nevertheless, she looks forward to the prospect of spending another summer in the mountains with her cows, ignoring well-meaning advice that she should simply retire.
This striking portrait captures one of the last female herders working in the traditional way, an indomitable woman who ultimately chooses independence. The colours of nature—also a protagonist in the film—leap off the screen.
Virtual Availability: North America Only
Tickets are subject to availability, even to package holders, so make sure to book your tickets early! We have limited capacity due to COVID-19 safety restrictions in most venues. We appreciate your understanding.
Virtual Ticket
HST EXEMPTION: For Status card holders, please email boxoffice@imagineNATIVE.org if you wish to use your Status card to purchase packages or tickets online. Otherwise, you can visit the imagineNATIVE Box Office in person starting October 18 and present your Status card when purchasing tickets or packages.