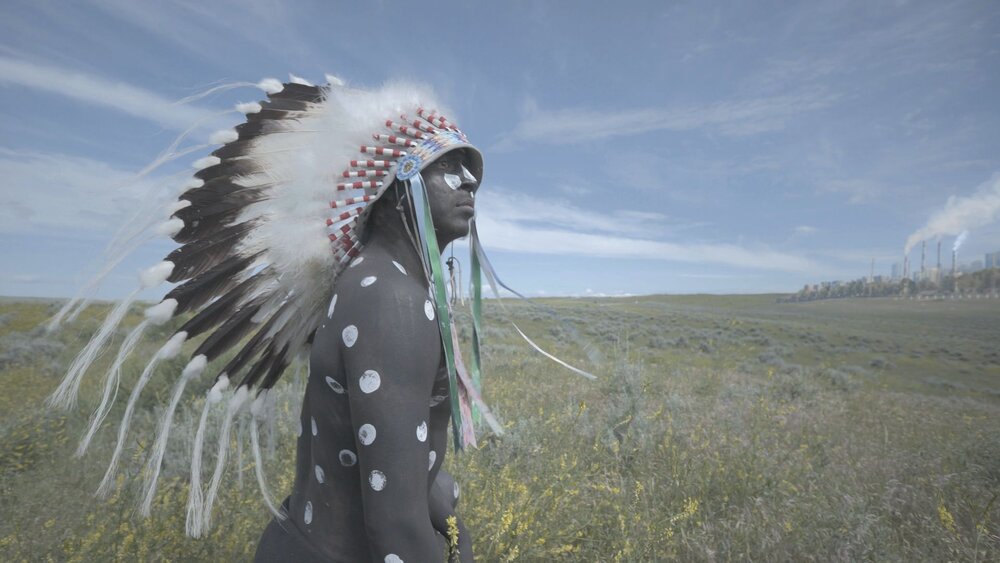 imagineNATIVE Film + Media Arts Festival
Presenting Partner: Crave
Full Festival Programming Announced
Inconvenient Indian, Monkey Beach, Love and Fury, and more
Lorne Cardinal to Receive August Schellenberg Award of Excellence

The imagineNATIVE Film + Media Arts Festival today announced their full programming for the 21st Annual Festival, running online October 20 – 25, 2020, including feature length films, short programs, the recipient of the 2020 August Schellenberg Award of Excellence, and more.

imagineNATIVE will present work from 153 Indigenous artists in 23 languages from 13 countries and 97 Indigenous nations. The Festival will include ten feature films, four short programs, two guest curated programs, and one artist spotlight.

The 21st imagineNATIVE Film + Media Arts Festival will present highly anticipated Feature films including: Inconvenient Indian, directed by Michelle Latimer (Métis/Algonquin), which recently won People's Choice Documentary Award at TIFF 2020; Monkey Beach, directed and produced Loretta Todd (Cree/Métis), a film adaptation of Eden Robinson's celebrated novel;Love and Fury, directed and produced by Sterlin Harjo (Seminole/Muscogee Creek), a feature doc that follows Native artists as they navigate their careers in the United States and abroad; and the Ontario premiere of The Legend of Baron To'a, directed and produced byKiel McNaughton (Māori/Pasifika), which follows a young Tongan man as he grapples with the legacy of his wrestling superstar father, and fights for the return of his dad's stolen championship belt.

Throughout the Festival four short programs will be screened that are each named after one of the four colours in the medicine wheel. imagineNATIVE will open the Festival with the shorts program YELLOW on October 20, a program composed of works created by artists from seven different nations. The additional shorts programs include: RED on October 21, six short films that offer stories of connection where land and love reunite to bring hope and resilience; BLACK on October 23, eight visually arresting shorts at the vanguard of Indigenous Cinema; and WHITE on October 24, seven short films that tell stories about family, communities, Indigenous languages, and representation.

Special programs at imagineNATIVE will include: an Artist Spotlight on Thirza Cuthand on October 22; Écrans autochtones: temporalité et mouvement, A Francophone Indigenous Focus Screening on October 23; and Tell Me A Story: A Multi-Generational Film Program on October 25. Curated by Ariel Smith, the Artist Spotlight, Less Lethal Fetishes features the razor-shop wit and DIY diarist aesthetic of Thirza Cuthand's prolific 20+ year video art practice. Écrans autochtones offer insights into differing struggles for Indigenous sovereignty in occupied lands, waters, bodies, and minds through compelling works from francophone Indigenous communities across Turtle Island. Tell Me A Story is a youth program that brings together a variety of artistic voices sharing knowledge and entertainment through stories appealing to kids and families.

imagineNATIVE is proud to honour Lorne Cardinal with the 6th annual August Schellenberg Award of Excellence. Lorne Cardinal is an award winning actor, producer, and director with over 100 credits on stage and screen including Corner Gas, Kayak to Klemtu, Fargo, FBI: Most Wanted, Unintentional Mother, and more. The August Schellenberg Award of Excellence was launched in partnership with Joan Karasevich Schellenberg to honour her late husband, the legendary actor August (Augie) Schellenberg, and the spirit of his work. The "Augie" Award will be presented to Lorne Cardinal as part of the imagineNATIVE Awards Presentation.

The annual imagineNATIVE Awards Presentation, hosted by Tiffany Ayalik (Inuk), will take place on Sunday, October 25 and will hand out 16 Awards to Indigenous artists, along with a record amount in cash prizes totalling$53,000. The Awards will also present the APTN Pitch Prize with$40,000+in kind prizing, $30,000 licensing fee from APTN, and$10, 000 cash towards production fromBell Fund along with additional in kind services.

This year imagineNATIVE's annual Indigenous music showcase The Beat moves worldwide and online! Presented in partnership with the Tkaronto Music Festival, the evening will feature Sami activist and hip hop musician Maxida Märak, Innu folk and reggae musician Shauit, and electronic music duo Once A Tree, with host Ila Barker. The Beat will also includethe top music videos of 2020, and a special surprise announcement.

The 21st Annual imagineNATIVE Festival will close October 25 with the Canadian premiere of Compañía by Bolivian director Miguel Hilari, which provides a deeper understanding of perspectives of home and migration using documentary, experimental, and visual poetry.

imagineNATIVE Film + Media Arts Festival
October 20 – 25, 2020
imagineNATIVE Tickets and Passes On Sale Now

Day Passes are $6
festival.imaginenative.org/day-pass/

Special Event Tickets are $10
festival.imaginenative.org/event-tickets/

Community Passes are $60 including tax and fees
Industry Passes are $85 including tax and fees and can be purchased online at
festival.imaginenative.org/passes

For more information please call 416.585.2333 or visit imagineNATIVE.org

facebook.com/imagineNATIVE / twitter.com/imagineNATIVE / instagram.com/imagineNATIVE

Media Contact: Damien Nelson, Want & Able, damien@wantandable.ca

The imagineNATIVE Film + Media Arts Festival is the world's largest Indigenous festival showcasing film, video, audio, and digital + interactive media made by Indigenous screen-content creators. The Festival presents compelling and distinctive works from Canada and around the globe, reflecting the diversity of Indigenous nations and illustrating the vitality and dynamism of Indigenous arts, perspectives, and cultures in contemporary media.