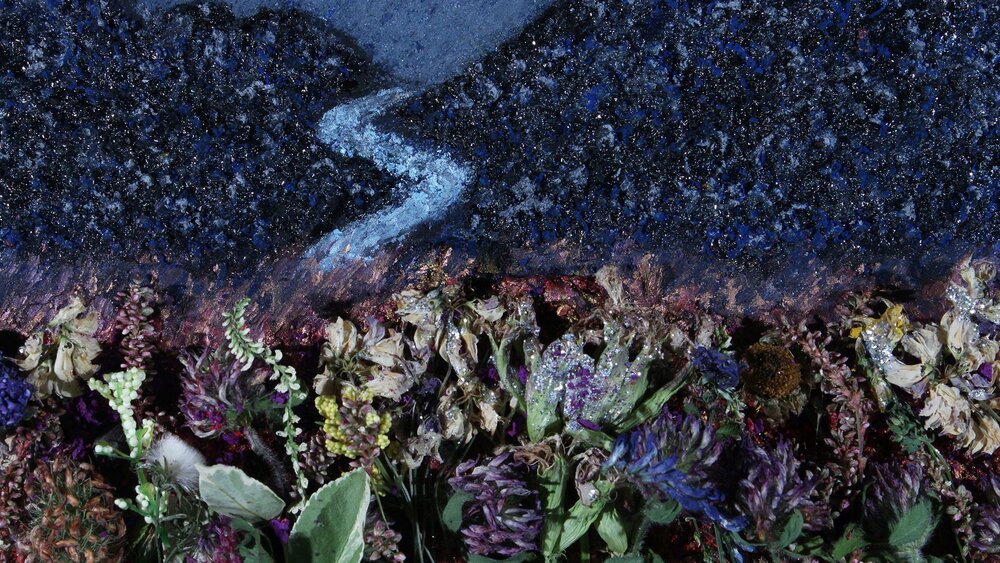 imagineNATIVE Film + Media Arts Festival
Presenting Partner: Crave
Opening and Closing Night Films
YELLOW: Short Program, and Compañía
imagineNATIVE is pleased to announce the Opening and Closing Galas for the 21st imagineNATIVE Film + Media Arts Festival, running October 20 – 25, 2020 online, plus a new community initiative To Gift, an expression of gratitude and generosity.

For the first time ever, imagineNATIVE will open the Festival with a shorts program. Throughout the Festival four short programs will be screened, each named after one of the four colours in the medicine wheel. For the Opening Gala, imagineNATIVE begins in the YELLOW quadrant. imagineNATIVE's Opening Night Gala on Tuesday, October 20 will feature a gathering of international short films, standing together. The short program YELLOW is composed of works created by artists from seven different nations: Êmîcêtôsêt: Many bloodlines by Theola Ross (Cree); Between Two Lines by Jack Steele (Wiradjuri); Te Wao Nui byNgariki Ngatae (Māori); Nuxalk Radio by Banchi Hanuse (Nuxalk); Audrey's Story by Michelle Derosier (Anishinaabe); Kapaemahu by Hinaleimoana Wong-Kalu (Kanaka Maoli); and The Fourfold by Alisi Telengut (Mongolian, Telengut). The fluidity of the works in YELLOW speaks to the artful nuance of Indigenous Cinema.

On Sunday, October 25, the Closing Night Gala will be the Canadian premiere of Compañía by Bolivian director Miguel Hilari. Compañía follows the daily rhythms of a small mountain community as we witness the return of community members from the city to honour the dead. From the individual to the community, the land to urban spaces, and traditional to ancestral, Compañíaprovides a deeper understanding of perspectives of home and migration. Compañía stretches notions of Indigenous Cinema using documentary, experimental, and visual poetry.

With the community as a priority, the 2020 imagineNATIVE Film + Media Arts Festival will be guided by Indigenous practices of gifting and reciprocity, To Gift. imagineNATIVE will be 'gifting from the spirit and for the spirit' with daily draws for physical and digital giveaways throughout the Festival, highlighting Indigenous artists, goods, and companies. Grounded in expressions of generosity, the To Gift giveaways will acknowledge the continued support and work from communities by presenting daily gifts to audiences and artists.

More programming for the 21st Annual imagineNATIVE Film + Media Arts Festival will be announced in the coming weeks.
imagineNATIVE Film + Media Arts Festival
October 20 – 25, 2020
Day Passes are $6 and Special Event Tickets are $10
On Sale September 29, 2020

Community Passes are $60 including tax and fees
Industry Passes are $85 including tax and fees and can be purchased online at festival.imaginenative.org/passes

For more information please call 416.585.2333 or visit imagineNATIVE.org

facebook.com/imagineNATIVE / twitter.com/imagineNATIVE / instagram.com/imagineNATIVE
Media Contact: Damien Nelson, Want & Able, damien@wantandable.ca

The imagineNATIVE Film + Media Arts Festival is the world's largest Indigenous festival showcasing film, video, audio, and digital + interactive media made by Indigenous screen-content creators. The Festival presents compelling and distinctive works from Canada and around the globe, reflecting the diversity of Indigenous nations and illustrating the vitality and dynamism of Indigenous arts, perspectives, and cultures in contemporary media.