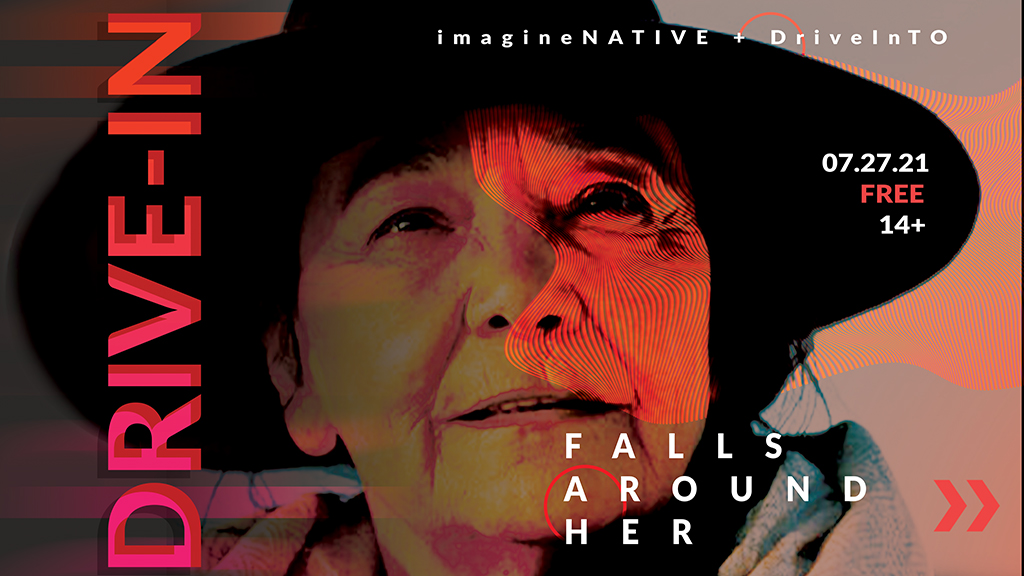 imagineNATIVE at the DriveInTO Featuring Darlene Naponse's Falls Around Her
For the second year in a row, imagineNATIVE is proud to partner with the City of Toronto for DriveInTO to bring a night of FREE film programming at Ontario Place!
On Tuesday, July 27, at 9:30 PM, imagineNATIVE will screen Darlene Naponse's Falls Around Her, starring Tantoo Cardinal. Falls Around Her was the opening gala film at the 2018 imagineNATIVE Film + Media Arts Festival where it won the Air Canada Audience Choice Award.
Gates open at 8:00 PM and drive-in spots are on a first-come first-served basis. Ticket-holders must arrive by 9:15 PM to secure their spot and beyond that time, remaining spots will open up to the rush line. The screening begins at 9:30 PM.
Update: Per Ontario's move into Step Three of its reopening plan, concessions will now be available for purchase in a walk-up format prior to the screening, rather than the format previously listed in this release (drive-through exclusively upon entry).
Falls Around Her is a dramatic feature that follows a world-famous Anishinaabe musician (Tantoo Cardinal) when she returns home. In search of peace and quiet, she finds that her international fame allows her no time to relax. As she tries to combat a constant series of requests for her time, she also begins to fear that she is being trailed by an unwanted pursuer. With her sister's guidance, she manages to find happiness through her family, old friends and some unexpected new romance. The Canadian distributor is Pacific Northwest Pictures.

Darlene Naponse is an Anishinaabe Kwe from Atikameksheng Anishnawbek – Northern Ontario. She is a writer, film director, and video artist whose film work has been viewed internationally including the Sundance Film Festival. She owns Pine Needle Productions, an award-winning boutique Film/Video/Audio Recording Production Studio, located in her community.
The 22nd imagineNATIVE Film + Media Arts Festival will take place online October 19 – 24, 2021 celebrating Indigenous storytelling in film, video, audio, digital and interactive art. Building off the success of last year's virtual Festival, imagineNATIVE will offer six days of online programming including the presentation of film, digital + interactive works, audio, exhibitions, special events, and more. To find out more, subscribe to the imagineNATIVE newsletter and check out imagineNATIVE.org for more updates.
DriveInTO: imagineNATIVE
Tuesday, July 27, 2021, screening begins at 9:30 PM
Gates open at 8:00 PM, drive-in spots are first come first served
Ticket-holders must arrive by 9:15 PM, beyond that time, remaining spots will open up to the rush line
Ontario Place
955 Lake Shore Boulevard West
(via the Ontario Place Centre Entrance at Remembrance Drive)
FREE
ontarioplace.com/en/special_programs/drive-in-to
#DriveInTO
#imagineNATIVE | @imagineNATIVE