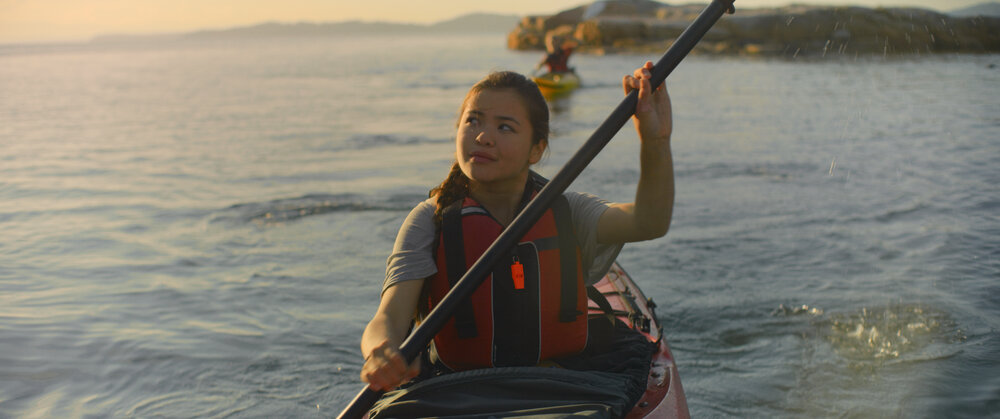 imagineNATIVE at the DriveInTO
imagineNATIVE is proud to partner with the City of Toronto for DriveInTO to bring a night of FREE programming at Ontario Place!
On Tuesday, August 18, at 8:45 pm, imagineNATIVE will be screeningZoe Hopkins' family adventure KAYAK TO KLEMTU. Winner of the iN 2017 Air Canada Audience Choice Award, this film speaks to our hearts and minds through the eyes of our youth about the importance of protecting our land.
Driven by her determination, 14-year-old Ella (Ta'Kaiya Blaney) embarks on a kayak journey through the Inside Passage of the Great Bear Rainforest upon learning of a proposed pipeline through her home community.
Honouring the activist spirit of her late uncle Dave, and joined by her aunt, cousin, and prickly Uncle Don (Lorne Cardinal), Ella navigates the many challenges that come her way with grit and perseverance. As they race against the clock, this motley crew must paddle to make the community gathering in time for Ella to deliver the speech of her life, altering the course of her community's destiny for generations to come.
KAYAK TO KLEMTU is sure to delight audiences and inspire the spirit of activism for all.
Zoe Hopkins (Mohawk/Heiltsuk) was born in Bella Bella, a Heiltsuk fishing village on the coast of B.C. and is now based in Six Nations, ON. Zoe is an alumna of the Sundance Institute's Feature Film Program and imagineNATIVE's Embargo Collectives. She is currently completing her second feature film.
The 21st imagineNATIVE Online Festival will take place from October 20 – 25, 2020 celebrating Indigenous storytelling in film, video, audio, digital and interactive art. The six-day online gathering will feature Indigenous artists from all over the world with an offering of live screenings, featured discussions, interactive engagements, live pitches, performances, virtual exhibitions, and other special events. To find out more, subscribe to the iN newsletter and check out imagineNATIVE.org for more updates.
imagineNATIVE Film + Media Arts Festival
October 20 – 25, 2020
Toronto, Ontario
#DriveInTO #iN2020
@imagineNATIVE @KayaktoKlemtu
@thezoehopkins @zoeitgoeist