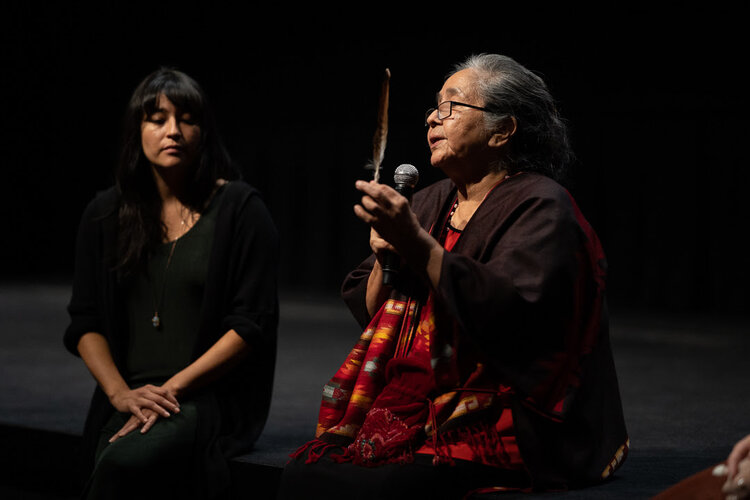 imagineNATIVE Film + Media Arts Festival
Announces Online Festival
October 20 – 25, 2020
The imagineNATIVE Film + Media Arts Festival today announces the 21st Annual Festival will move online from October 20 – 25, 2020. imagineNATIVE will gather community for an online Festival to celebrate Indigenous storytelling in film, video, audio, digital and interactive art. This six-day online gathering will feature over 100 Indigenous artists from all over the world with an offering of live screenings, featured discussions, interactive engagements, live pitches, performances, virtual exhibitions, and other special events.

In addition to artistic and industry offerings, imagineNATIVE will be 'gifting from the spirit and for the spirit'. Items and goods will be gifted through physical and digital giveaways throughout the Festival highlighting Indigenous artists and companies. Grounded in expressions of generosity, the giveaways will acknowledge the continued support and work from our communities. This year will mark an opportunity for imagineNATIVE to mobilize and connect in new, creative and exciting ways!
"With the community as a priority, the 2020 imagineNATIVE Film + Media Arts Festival will be guided by Indigenous practices of gifting and reciprocity. To gift is an act of acknowledgement," said Niki Little, Artistic Director. "It comes with notions of collective responsibility and opportunities to name relationships between nations."
The imagineNATIVE Film + Media Arts Festival is the world's largest Indigenous festival showcasing film, video, audio, and digital + interactive media made by Indigenous screen-content creators. The Festival presents compelling and distinctive works from Canada and around the globe, reflecting the diversity of Indigenous nations and illustrating the vitality and dynamism of Indigenous arts, perspectives, and cultures in contemporary media.
imagineNATIVE Film + Media Arts Festival
October 20 – 25, 2020
Toronto, Ontario
Media Contact: Damien Nelson, damien@wantandable.ca