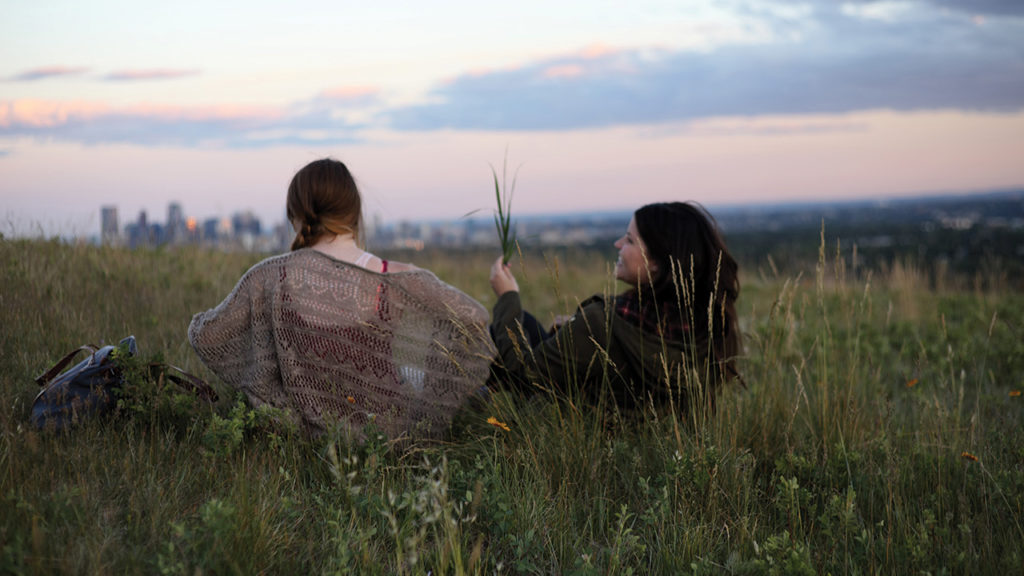 September 13, 2021 – Press Launch Release
imagineNATIVE Film + Media Arts Festival
Announces Programming for 22nd Annual Festival
October 19-24, 2021
Presenting Partner: Canada Media Fund

145 Works Representing 51 Indigenous Nations
Opening Gala: Night Raiders by Danis Goulet
Closing Gala: Iwianch, el Diablo Venado by José Cardoso

The imagineNATIVE Film + Media Arts Festival, the world's largest presenter of Indigenous screen content, today announced programming for the 22nd Annual Festival with live in-person and virtual events from October 19-24, 2021 in Toronto, Ontario. imagineNATIVE will celebrate in the Harvest with over 145 works from artists representing 51 Indigenous nations giving voice to over 26 Indigenous languages. This year, imagineNATIVE is thrilled to announce the Canada Media Fund as the Festival's new Presenting Partner.
imagineNATIVE's Opening Night Gala, supported by APTN, on Tuesday, October 19 will be Night Raiders by Danis Goulet (Cree/Métis) as a nationally broadcasted in-person screening and Q&A at TIFF Bell Lightbox. Night Raiders is a Canadian-New Zealand science fiction apocalyptic film starring Elle-Máijá Tailfeathers, Brooklyn Letexier-Hart, Alex Tarrant, Amanda Plummer, and Violet Nelson. imagineNATIVE's Closing Night Gala on Sunday, October 24 will be Iwianch, el Diablo Venado (Iwianch, the Devil Deer) by José Cardoso (Achuar/Shuar) as a virtual screening. In this documentary feature,an enigmatic presence haunts the depths of the Amazon rainforest, where an Indigenous Achuar teenager has disappeared. Secrets of this dreamlike forest, and Amazonian visions of life after death, are explored.
Feature film highlights from imagineNATIVE 2021 include: the Ontario premiere of Portraits From A Fire by Trevor Mack (Tŝilhqot'in (Chilcotin)), a coming of age film following an eccentric teenaged misfit as a family secret begins to unravel; the Ontario premiere of Run Woman Run by Zoe Hopkins (Mohawk), a magical anti-rom com about a single mom who is goaded into running a marathon by the ghostly appearance of legendary Onondaga marathon runner Tom Longboat; Ste. Anne by Rhayne Vermette (Métis), tracing an allegorical reclamation of land through personal, symbolic and historical sites all across Treaty 1 Territory, heartland of the Métis Nation; Bootlegger by Caroline Monnet (Algonquin), a dramatic French feature where two radically opposed women divide their reserve in northern Quebec into two clans to determine the best path to independence; and Cousins by Ainsley Gardiner (Te Whanau-a-Apanui/Ngati Pikiao/Ngati Awa) and Briar Grace-Smith (Nga Puhi/Te Arawa), based on the 1992 novel by Patricia Grace where three cousins, connected by blood but separated by circumstances, spend a lifetime in search of each other.

Feature documentary highlights at imagineNATIVE 2021 include: the International premiere of Warrior Spirit by Landon Dyksterhouse (Navajo), about the first Native American UFC champion Nicco Montano (Navajo) and a stark look at how the UFC exploits their fighters for millions; the Canadian premiere of Tote Abuelo by María Sojob (Tzotzil), which follows a grandfather weaving a traditional hat, with a granddaughter who does not remember her childhood well, as the threads of family history unravel; and Kímmapiiyipitssini: The Meaning of Empathy by Elle-Máijá Tailfeathers (Blackfoot/Sámi), an intimate portrait of survival, love and the collective work of healing in the Kainai First Nation, a Blackfoot community facing the impacts of substance use and a drug-poisoning epidemic.


The imagineNATIVE Institute, supported by Lead Institute Partner Netflix, and Institute Partner Crave, will present Industry Days online October 20-23 with Indigenous-focused panel discussions, masterclasses, and networking events. Industry Days highlights include: the Reservation Dogs Panel with creator Sterlin Harjo and stars Devery Jacobs and D'Pharaoh Woon-A-Tai; the Nia Tero Kin Theory Panel where guest speakers Jennifer Podemski of The Shine Network, Amalia Cordova of Smithsonian Center for Folklife and Cultural Heritage, and Jennifer Loren of the Cherokee Film Office, will discuss the various databases that connect all Indigenous creatives; and the annual update from the Indigenous Screen Office about current activities, opportunities and support.

From October 19-24, 2021, imagineNATIVE artists, organizers and audiences will come together to exchange ideas, share space, and connect with kin globally. This gathering, in person and online, influences the curatorial theme: Fall Camp – a time of Harvest, nourishment, and celebration before much-needed rest. For six days the Festival is a collective and creative occupation that trails the fall equinox, a time of movement, harvesting, and gratitude.

In addition to artistic and industry offerings, imagineNATIVE will continue 'gifting from the harvest' through Giveaways worth over $23,0000. Items and goods will be gifted throughout the Festival, highlighting Indigenous artists and Indigenous-owned companies. Grounded in expressions of generosity, the giveaways will acknowledge the continued support and work from our communities.
The imagineNATIVE Film + Media Arts Festival is the world's largest Indigenous festival showcasing film, video, audio, and digital + interactive media made by Indigenous screen-content creators. The Festival presents compelling and distinctive works from Canada and around the globe, reflecting the diversity of Indigenous nations and illustrating the vitality and dynamism of Indigenous arts, perspectives, and cultures in contemporary media.
imagineNATIVE Film + Media Arts Festival
October 19 – 24, 2021
Toronto, Ontario
Festival schedule and passes available now at:
facebook/imagineNATIVE
instagram.com/imaginenative
twitter.com/imagineNATIVE
Media Contact: Damien Nelson, damien@wantandable.ca