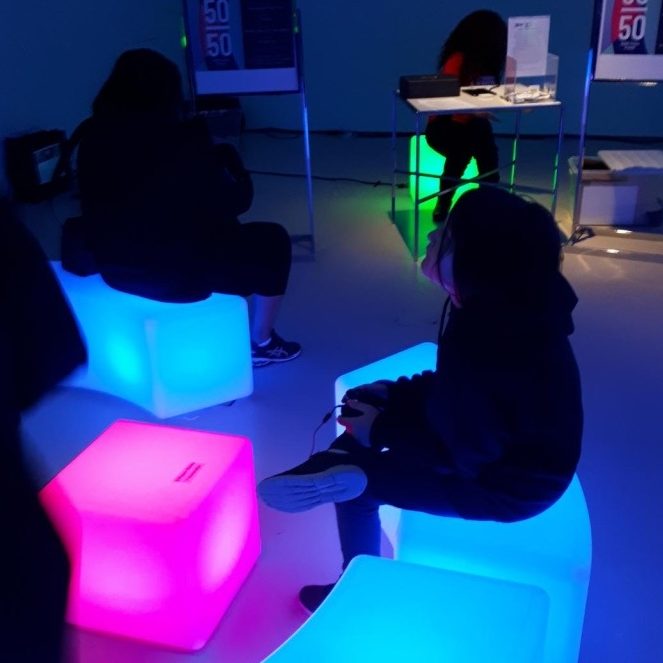 iNdigital Space
The iNdigital Space is back and bigger than ever! Join us inside the TIFF Bell Lightbox Gallery for a large-scale presentation of imagineNATIVE's curated Digital + Interactive and Audio works! We invite you to see, listen, and play with our diverse official selection, which includes VR, 360, AR, video games, and interactive web and digital media. Celebrated alongside these works is a showcase of games made during our summer LAND JAM and Biindigen! (Come in!) by the iNdigital Youth Collective.
The entire iNdigital Space is FREE to visit and explore, and we've worked hard to make it accessible and inclusive for all — trained volunteers and staff will be on hand to support your enjoyment of these unique works. Come experience the iNdigital Space at your own pace any time from October 18-23 (11:00 AM to 8:00 PM) or join us from October 19-20 for iNdigital Days (schedule below), our jam-packed, two-day professional development event! We love new media and can't wait to share it with you!
iNdigital Days | October 19
TIFF Bell Lightbox Gallery
Formerly known as Indigenous Digital Development Day (iDDD), iNdigital Days is an extended two-day event packed with opportunities to grow your practice and connect with other digital creatives! Kicking off iNdigital Days is a full day of programming tailored to artists working and experimenting with new media!
Elder Opening Ceremony and D+I Presentation
11:00 AM – 11:40 AM
Keynote
11:40 AM – 12:20 PM
Panel: Remixing
12:20 PM – 1:00 PM
Tech Talk Lunch (Registration only)
1:00 PM – 2:00 PM
Masterclass: Painting in VR
2:00 PM – 3:30 PM

Community Mural with Tilt Brush
3:30 PM – 5:20 PM
Panel: Digital Gestures
5:20 PM – 6:40 PM
iNdigital Youth Collective Showcase + Party
6:00 PM – 2:00 PM
iNdigital Days | October 20
TIFF Bell Lightbox Gallery
Welcome to the second part of iNdigital Days which explores digital skill-building and relationality! Whether you're curious about digital creation or you're an old pro, iNdigital Days has something for everyone. Level up with us at your pace, make new connections, and get inspired!
Welcome Breakfast (Registration only)
11:00 AM – 12:00 PM
Panel: Collaborative Game Making
12:00 PM – 1:00 PM
LAND JAM Showcase
1:00 PM – 2:00 PM
Catered Lunch + Tech Talk
2:00 PM – 3:00 PM
Artist Talk – Acorn AR
3:00 PM – 4:00 PM
Masterclass – Dancing Light Lanterns (Registration only)
4:00 PM – 5:00 PM
Closing Party
6:00 PM – 8:00 PM
Showtimes
In-Person

---

11:00 AM — TIFF Bell Lightbox Gallery

HST EXEMPTION: For Status card holders, please email boxoffice@imagineNATIVE.org if you wish to use your Status card to purchase packages or tickets online. Otherwise, you can visit the imagineNATIVE Box Office in person starting October 18 and present your Status card when purchasing tickets or packages.