WELCOME TO THE INDIGITAL SPACE
The iNdigital Space online platform is currently down for maintenance, but will return soon to feature online works in many cutting edge formats including VR, 360, AR, video games, and interactive web and digital media! 
We at imagineNATIVE acknowledge that this land, located on present-day Tkaronto (Toronto), is the traditional territory of the Anishnaabe, Haudenosaunee, Huron-Wendat and the Mississaugas of the Credit. We acknowledge the Dish With One Spoon covenant, a treaty whose spirit is one based in collective stewardship and reciprocity. We take the spirit of this covenant to the core of our operations as we bring artists and audiences from many nations across the globe together through our various initiatives and activities. Please take a moment to think of the land you currently reside upon, wherever you may be, and acknowledge those who went before and those yet to come.

iNdigital Space
The iNdigital Space was back and bigger than ever at the 2022 imagineNATIVE Film + Media Arts Festival! Visitors enjoyed a large-scale presentation of imagineNATIVE's curated Digital + Interactive (D+I) and Audio works where they were able to see, listen, and play with our diverse official selection, including VR, 360, AR, video games, and interactive web and digital media. Celebrated alongside these works, we also featured a showcase of games made during our summer LAND JAM and Biindigen! (Come in!) by the iNdigital Youth Collective.
iNdigital Days
Formerly known as Indigenous Digital Development Day (iDDD), iNdigital Days was an extended two-day event during our 2022 Festival packed with opportunities to grow artists' practices and connect with other digital creatives!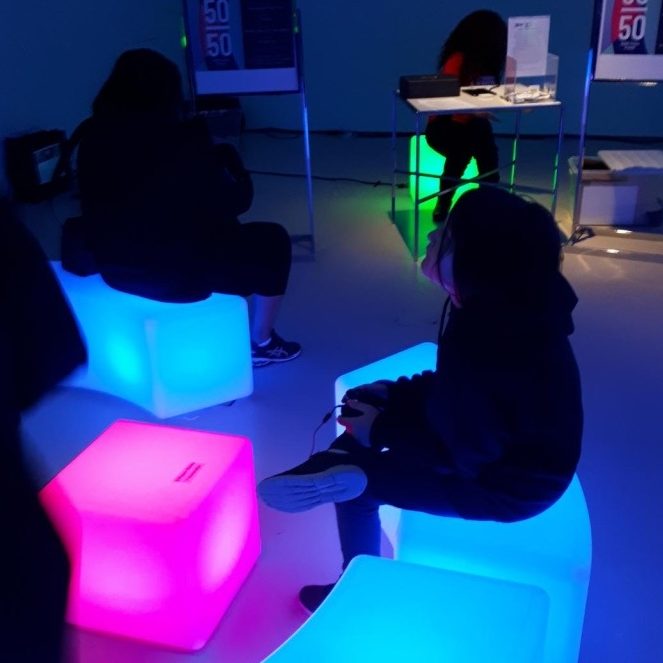 At its core, imagineNATIVE's mandate is to respect story in every form: the integrity, intention and perspective of artists as channeled through screen-based storytelling. Over the past two decades, imagineNATIVE has played a crucial role in promoting Indigenous-made media by developing platforms for artists to assert their voice, express their perspectives and share their cultures.
Following these successes for film, our next step is creating an ecosystem where new media practitioners can experiment and thrive. This means creating opportunities for maximum inclusion across the spectrum of media, building capacity within interactive programming and cultivating talent through professional and creative development initiatives.
The submissions we receive for digital + interactive are as diverse as the communities we serve: solo + social VR, mixed reality, video games, interactive fiction and web-based experiences. The stories channeled through these media are just as varied; they are grounded in the teachings of the past, speaking to contemporary perspectives and looking ahead to vibrant Indigenous futures. We cannot anticipate what new art forms will emerge to help us tell our stories, but we can create enriching spaces for them to bud and blossom.


This year's online shift is centered around accessibility and reduction of barriers. The goal is creating space to imagine new futures and creative possibilities. This shift is bringing innovative forms of media to new audiences and allowing Indigenous perspectives to impact emerging platforms.
There are conceptual and practical challenges associated with this undertaking: Canada's digital divide highlights the lack of basic internet access for many First Nations and shows digital literacy is unbalanced across age groups. How can we navigate these radically different and layered realms while keeping a firm foundation in our cultural worldviews?
As with every initiative, it is imperative we approach this undertaking responsibly and care for our communities. Cutting edge does not mean cut-throat. Instead, we approach technology and media as keys to connect locally and across nations. These tools allow us to stay inspired, to flourish in contemporary dialogues and to build collaboratively towards our imagined futures. It is with these tools and a flexible, open-hearted approach that we engage with tradition – we are shaping it to meet us where we are and to carry forward.
Frequently Asked Questions
Below are some of the questions we regularly receive about this topic. If you have another question that isn't answered here, you can browse our comprehensive Frequently Asked Questions page.
Where is the iNdigital Space located?
The iNdigital Space is located inside the TIFF Bell Lightbox Gallery. The entire iNdigital Space is free to visit and explore, and we've worked hard to make it accessible and inclusive for all–trained volunteers and staff are on hand to support your enjoyment of these unique works.
What type of content is in the iNdigital Space?
We invite you to see, listen, and play with our diverse Official Selection, which includes VR, 360, AR, video games, interactive web, and digital media.
For more information about the official selection, please check our festival website.
What are the hours of operation?
The iNdigital Space will be open to the public from 11 am to 8 pm from October 18 to October 23, 2022.
Do I need to pay for access?
Access to the iNdigital Space is FREE. The space will be open to the public from 11 am to 8 pm from October 18 to October 23, 2022. 
Are there any age restrictions for the iNdigital Space content?
The iNdigital Space is open to all ages, however, the recommended age for viewing VR experiences with equipment is 13+. We will also flag any content that is intended for older audiences.