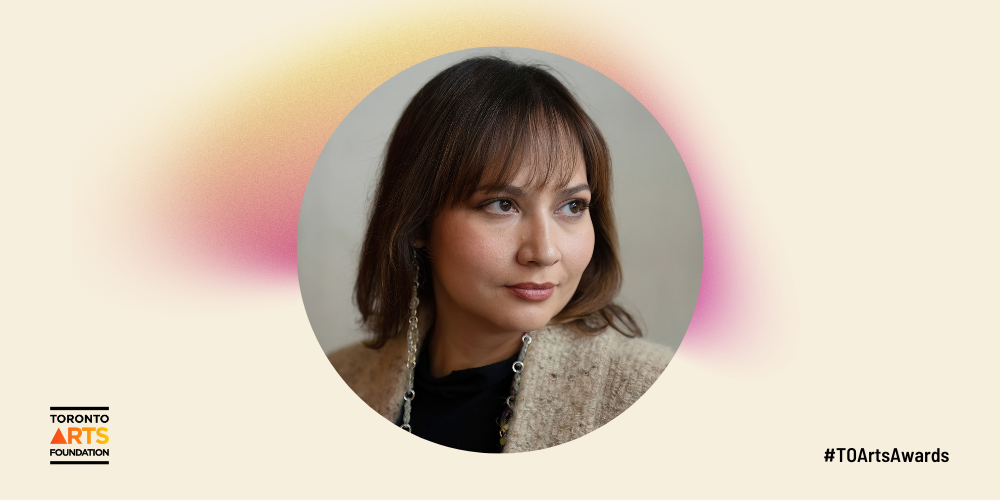 TORONTO, April 18, 2023 – Toronto's political, arts and business leaders gathered on Monday, April 17 to acknowledge the city's vibrant arts sector and celebrate the achievements of artists, arts organizations and cultural leaders at Toronto Arts Foundation's annual Toronto Arts Awards Lunch.
Organizations that engage youth and community through the arts, as well as individuals leading organizations and those practicing in music, visual arts and theatre, were honoured through five awards. Naomi Johnson, Executive Director of the imagineNATIVE Film + Media Arts Festival, was announced as the recipient of the Margo Bindhardt and Rita Davies Award which includes a $10,000 cash prize, sponsored in part by John and Raphaela Dunlap.

"Art workers are incredibly hardworking champions of the arts and we often go further than our limits because we genuinely care about the artists we present and the communities we serve," said Naomi Johnson. "I am incredibly thankful to those who have created and inhabit the spaces I've been lucky enough to work in."

Naomi Johnson, Kanien'kehá:ka (Mohawk) Bear clan from Six Nations, has worked in the arts for 17 years as a curator/programmer and arts administrator. Since June 2020 she has served as Executive Director for imagineNATIVE, continuing to support Indigenous talent and arts workers within film and media arts.

"As a person, as an Executive Director, and as a leader within the arts and culture sector, Naomi stands out for her down-to-earth approach and for her kindness, while being a powerful advocate for artists and Indigenous voices," said Kathleen Walsh, imagineNATIVE's Communications Manager who nominated Naomi for the award. "Throughout the pandemic, Naomi has led imagineNATIVE through a multitude of unprecedented firsts, taking on plenty of additional work behind the scenes. Naomi's commitment and care are truly unparalleled and I am so glad to see this award from the Toronto Arts Foundation recognize her leadership."
Finalists for the Margo Bindhardt and Rita Davies Award, D. Brainerd Blyden-Taylor and Ann and David Powell, were also celebrated. Thanks to Neera Chopra, finalists receive $1,000. The complete list of award recipients can be found at TorontoArtsFoundation.org.

Toronto Arts Foundation is a charitable organization that sparks creative connections, spotlights artistic excellence, and supports vibrant cultural growth through private-sector investment.
The imagineNATIVE Film + Media Arts Festival is the world's largest Indigenous festival showcasing film, video, audio, and digital + interactive media made by Indigenous screen-content creators. The Festival presents compelling and distinctive works from Canada and around the globe, reflecting the diversity of Indigenous nations and illustrating the vitality and dynamism of Indigenous arts, perspectives, and cultures in contemporary media. imagineNATIVE.org