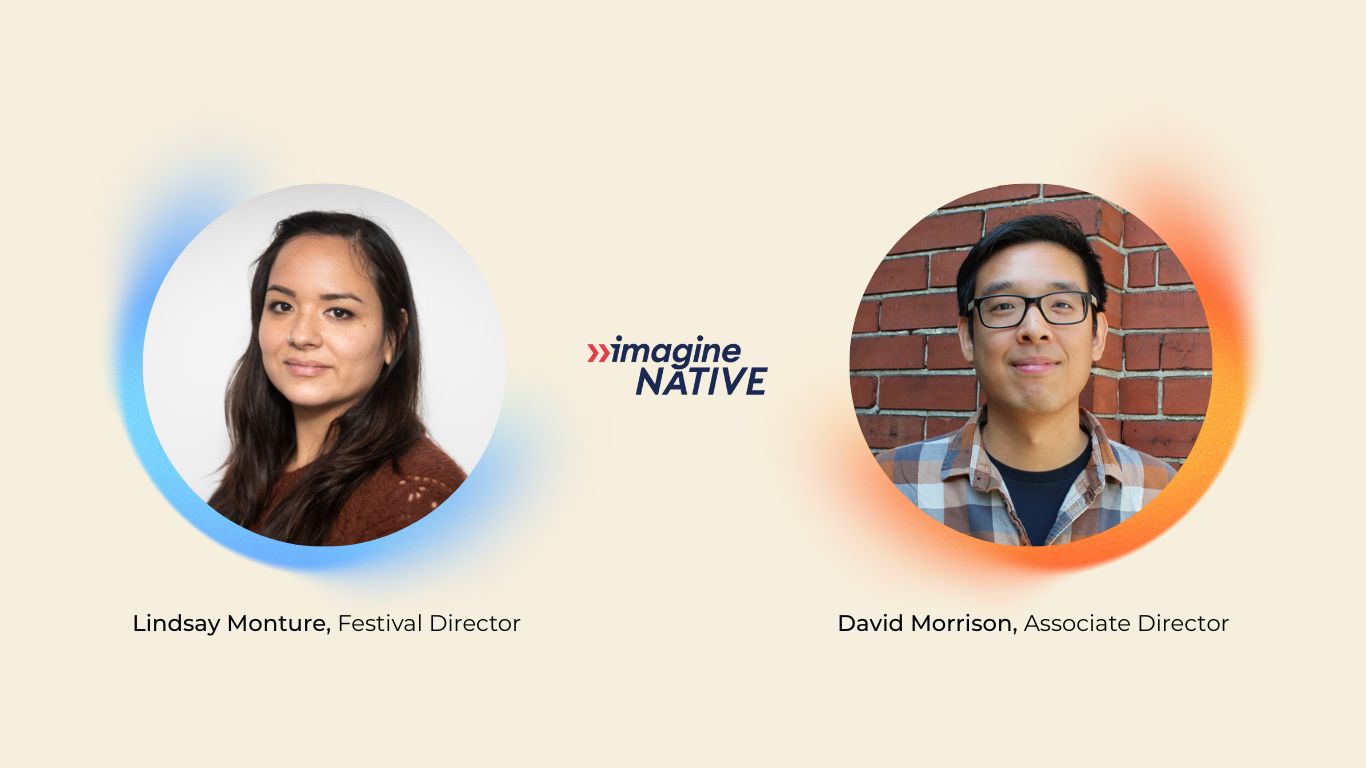 The imagineNATIVE Film + Media Arts Festival is proud to announce new staff appointments with Lindsay Monture as Festival Director, and David Morrison as Associate Director, in advance of the 24th Annual Festival this fall. imagineNATIVE will host in person screenings and events October 17-22, 2023 in Toronto, followed by online presentations October 23-29, 2023.

"On behalf of imagineNATIVE we are thrilled to have David and Lindsay join in these leadership roles," said Naomi Johnson, Executive Director of imagineNATIVE. "We are grateful to have their talents dedicated towards presenting Indigenous artists and advocating for Indigenous narrative sovereignty."

Kahstarohkwanoron Lindsay Monture is Kanyen'kehá:ka (Mohawk), Turtle Clan from the Six Nations of the Grand River Territory. Lindsay is delighted to return to imagineNATIVE in the capacity of Festival Director. In her role as Festival Director, Lindsay will oversee the Programming Team, including the Programming Coordinator, Programming Manager, and Digital + Interactive Team. She will lead in the selection and formation of Festival Programmers, Curators and Jury, in addition to any other contract or support roles associated with artistic initiatives.
A graduate of York University with a Bachelor of Arts in Film and Media Studies, Lindsay has worked in the media arts for over 15 years. Throughout her career she has followed her passion for the arts, culture, language, and education. Her desire to work with Indigenous communities has been enriched through opportunities working with non-profit organizations such as; Kaha:wi Dance Theatre, Native Earth Performing Arts, imagineNATIVE, Maoriland Film Festival, Revolutions Per Minute, the Royal Conservatory of Music, the Woodland Cultural Centre, and Indigenous Climate Action.

David Morrison is Dene from Yellowknives Dene First Nation and has been with imagineNATIVE since 2019, and most recently as Fundraising Manager. As Associate Director, David will work alongside the Executive Director with the development and implementation of the organization's strategic plan, critical path, and mandate, and overseeing the successful implementation of imagineNATIVE's year-round and Festival activities.
David is passionate about ensuring Indigenous stories are told by Indigenous storytellers. He has overseen and led the development of key partnerships with community organizations, businesses, corporate sponsors, and Industry partners as the Fundraising Manager, building these relationships on a level of mutual recognition and support. 
The imagineNATIVE Film + Media Arts Festival is the world's largest Indigenous festival showcasing film, video, audio, and digital + interactive media made by Indigenous screen-content creators. The Festival presents compelling and distinctive works from Canada and around the globe, reflecting the diversity of Indigenous nations and illustrating the vitality and dynamism of Indigenous arts, perspectives, and cultures in contemporary media. imagineNATIVE.org
imagineNATIVE Film + Media Arts Festival
Toronto: October 17-22, 2023
Online: October 23-29, 2023
#imagineNATIVE
Media Contact:
Damien Nelson, damien@wantandable.ca