Early Bird ticket packages for the 24th annual Festival officially on sale as of August 15.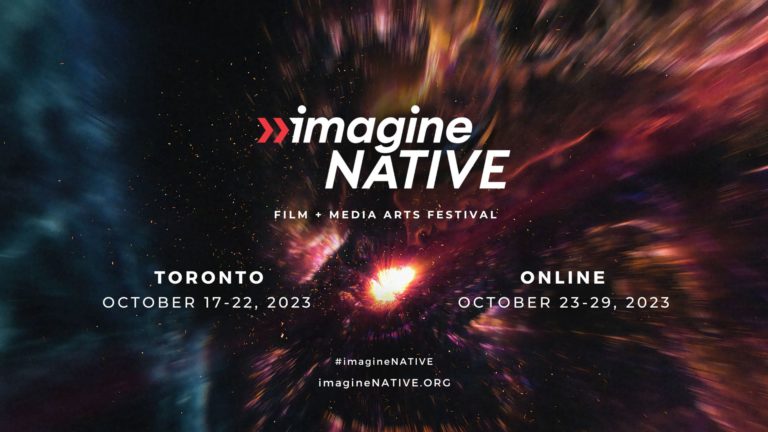 Toronto, August 15, 2023 – The imagineNATIVE Film + Media Arts Festival is proud to announce Anishinaabe and Ashkenazi actor, writer, producer and director Jennifer Podemski as this year's winner of the August Schellenberg Award of Excellence (the "Augie"). The announcement comes on the same day as early bird tickets go on sale for the 24th edition of the Festival. 
The Augie is an annual prize that recognizes gifted Indigenous actors from across Turtle Island based on the longevity and impact of their careers, as well as their professionalism and involvement in mentorship and community work. To honour the memory of August Schellenberg, the award was launched in partnership with imagineNATIVE and August's widow and lifelong partner Joan Karasevich.
"I'm beyond humbled to be receiving this recognition," said Jennifer Podemski. "I knew Augie and always considered him a mentor and role model. To be awarded by imagineNATIVE in this way with this specific award, is so meaningful. "
Starting her career at 17, Podemski's breakout role was Sadie in Bruce McDonald's film, Dance Me Outside. Since then, she has earned herself Canadian Screen Awards for Best Supporting Actress, Best Film, and more. With her success, she has launched Big Soul Productions, becoming Canada's first Indigenous owned and operated film/television production and post production company, and the Shine Network, a digital exhibition platform and talent incubator for Indigenous women content creators.
The Augie Award, with support from ACTRA, will be presented to Podemski at this year's imagineNATIVE Awards Presentation during the Festival. 
"Following in the footsteps of August Schellenberg, Jennifer Podemski is a trailblazer," said Jani Lauzon, Writer/Actor/Director and member of the selection committee for the August Schellenberg Award. "She strives for excellence in her work as an actor, director and producer with a focus on lifting the lives and dignity of Indigenous people. Her work as an actor is both powerful and vulnerable while keeping her focus firmly routed in community."
Taking place from October 17-22, 2023 (Toronto) and October 23-29, 2023 (online), early bird ticket packages for this year's imagineNATIVE Film + Media Arts Festival are on sale now at imagineNATIVE.org.
About imagineNATIVE: 
The imagineNATIVE Film + Media Arts Festival is the world's largest Indigenous festival showcasing film, video, audio, and digital + interactive media made by Indigenous creators. The Festival presents compelling and distinctive works from Canada and around the globe, reflecting the diversity of Indigenous Nations and illustrating the vitality and dynamism of Indigenous arts, perspectives, and cultures in contemporary media. imagineNATIVE.org
imagineNATIVE Film + Media Arts Festival
Toronto: October 17-22, 2023
Online: October 23-29, 2023
#imagineNATIVE
Media Contact:
Damien Nelson, damien@wantandable.ca